Rob Cosman's Angle Trainer
Gallery
Full Description
Customer Reviews
Sharpening your plane blade is the most important skill for a handtool woodworker.  I have taught thousands of students my freehand (no jig needed) sharpening method which enables you to sharpen your blade in 30 seconds and get right back to work.  Once you develop the muscle memory to feel the correct angle to hold the blade you will be able to hand sharpen like a professional.  My angle trainer will help you quickly develop that muscle memory.
The biggest advantage of my trainer is that you hold the blade the same way you would if you were free hand sharpening.  The angle trainer slips underneath the blade to provide that bit of confidence needed in the learning phase.

Uses powerful rare earth magnets to securely hold the blade to the trainer at the proper angle.

Designed to work with blades that have a 25 degree primary bevel (which is almost all hand plane blades)

Has a 29 degree face for honing the secondary bevel.

Has a 31 degree face for honing the tertiary bevel.

Made of a hard wearing composite material called Swanstone that easily slides on your diamond or water stone.

Once you develop your muscle memory you no longer need the angle trainer.
Size: 3/4" wide x 3" long x 1" high.
Customer Reviews
Write a Review
Ask a Question
Hard to control
Good idea but not for me. I found it hard to control the angle of the blade as it tends to move sideways. In addition, the letters on the side that shows the angle disappeared after the first use. I think the ink is water soluble.
06/03/2020
Kent C.
United States
Quality control
I think I am getting the angles close to right by hand. This little trainer lets me double check my work. Purchased one for each of my shops.
05/29/2020
Dwight L.
United States
Free hand sharpening angle trainer
Excellent idea! and it works!
05/26/2020
CRAIG M.
United States
Angle Trainer
Was able to get a great edge with the trainer. Although all the printing on the side was gone after first use. It looks like there is a piece of clear film to protect the printing, but it is on the wrong side of the trainer. Used a protractor to find the angles, then engraved then onto the magnets. So good to go now.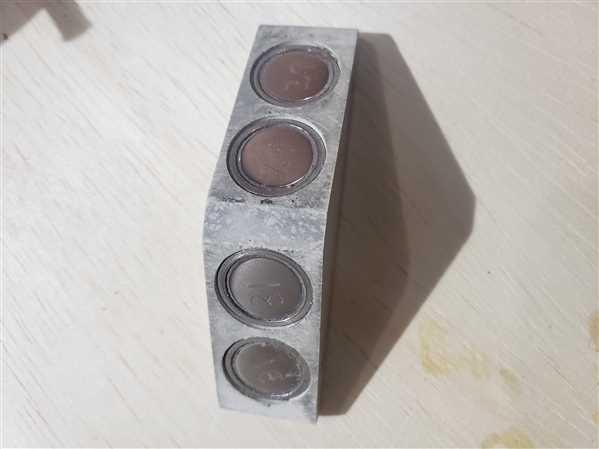 02/17/2020
David B.
Canada
Trainer Works Great
The trainer is doing it's job well. I just need to place my sharpening set up at a better working height to take full advantage of the trainer.