PEC 5026 Feeler Gauge for Shooting Boards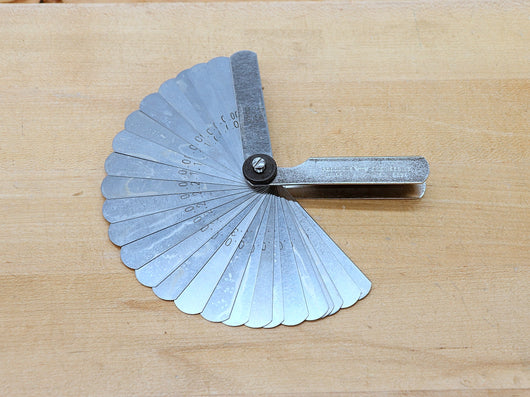 Gallery
Full Description
Customer Reviews
I find that a feeler gauge is an essential tool for use with my shooting boards.  While our shooting boards allow you to create precise 90 and 45 degeree angles, many times when you are fitting your stock into an opening, such as fitting a drawer or fitting a box top the opening you are fitting to is not precisely 90 or 45 degrees.  To match the actual angle, I use a feeler gauge between my shooting board's fence and the stock.  
PEC makes a great feeler gauge and here is why:
Made from the Finest Feeler Gage Stock Available, Hardened and Tempered

26 blades: 0015, .002, .0025, .003, .004, .005, .006, .007, 008, .009, .010, .011, .012, .013, .014, .015, .016, .017, .018, .019, .020, .021, .022, .023, .024, .025 inch

Each blade is 3inches long and 1/2 inch wide.
Lock-nut securely holds one or more blades in any desired position.
Each blade is clearly marked with its thickness in thousanths of an inch and in milimeter.
Blades are easily removed or replaced
Sturdy steel case protects blades.