Rob Cosman's Wood-Hinge Individual Jigs: 1/4 inch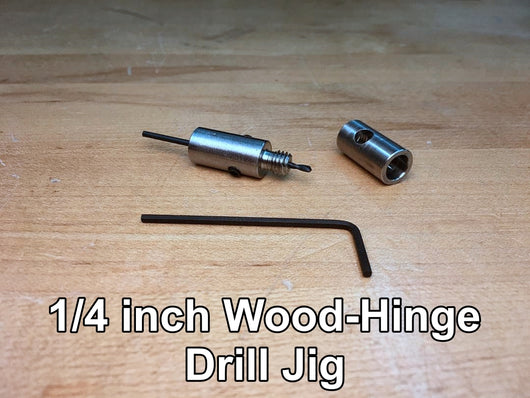 Gallery
Full Description
Customer Reviews
Master craftsman Dale Nish taught me how to make an amazing wood hinge for boxes.  A wooden dowel is cut into segments, a shallow hole is drilled in the center of each dowel and a small pin is inserted into the hole for the dowel segments to pivot on. I've made thousands of boxes using this style of hinge and I have designed four jigs to precisely drill the hole in the center of dowel segments (the most difficult task).  
Product Details
Four individual wood-hinge drill jig sizes available: 1/4", 3/8", 1/2" & 3/4"
Each individual wood-hinge drill jig includes one dowel jig, drill bit holder, drill bit, and Allen wrench.

1/4" & 3/8" drill jigs come with a 1/16" drill bit.

1/2" & 3/4" drill jigs come with a 1/8" drill bit.
Opposing set screws hold the drill bit securely in the holder and allows for adjustment of the hole depth.

Port holes in drill bit holder expel the sawdust to prevent clogging.
You may also like a copy of of my video "Wood-Hinge Box" which shows you step-by-step how to build a wood-hinge box.  Please go to our "Video" collection and add "the Wood-Hinge Box" video (available as a DVD or On Demand) to your cart.