Rob Cosman's CBN Grinding Wheel: 8 inch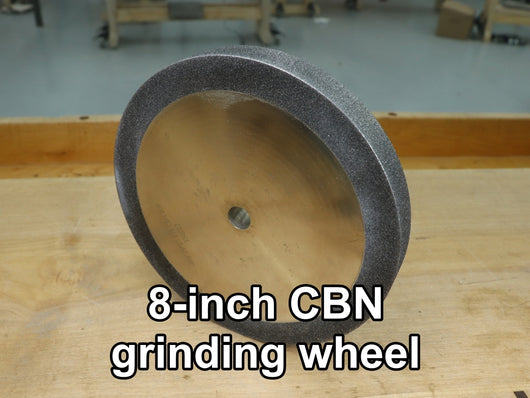 Gallery
Full Description
Customer Reviews
When I discovered CBN grinding wheels it was a game changer for me.  They are such an improvement over ceramic stone grinding wheels that its almost unbelievable! I was so impressed that I replaced all the grinding wheels in my shop with CBN.
After using them for a while I felt I could make them a bit better for woodworking applications.  So after working with a manufacturer to incorporate the changes I wanted, we now offer a CBN wheel specifically designed for the discriminating woodworker.   
Unlike most CBN wheels our wheel is coated on all sides.  This gives you the flexibility to grind on the left and right side of the wheel without having to hold the blade upside-down as you do on wheels with the CBN coating only on one side of the wheel. 
Here is why our CBN grinding wheel is the best:
80-Grit, Cubic Boron Nitride (CBN) coated wheel.  This cuts significantly faster as compared to typical 120 grit CBN or any other ceramic wheels.

203mm (8 inch) diameter x 25mm (1 inch) wide, with 15.75mm (5/8 inch) arbor.

The wheel is coated with CBN from edge to edge on the wheel's 1 inch face, 3/4 inch of one side of the wheel and 5/16 inch on the opposite side of the wheel.
Wheel balance is not an issue because the wheel is machined from solid steel plate.
Solid steel wheel acts like a heat sink making tool overheating or burning much less likely.

CBN coating never loads up or requires dressing.

Economical: the CBN coating lasts for years under normal use
CBN
Cubic boron nitride, commonly known as CBN, is a man-made synthetic abrasive. CBN is made from cubic boron nitride grains bonded together by ceramic material.  CBN is the second hardest material after synthetic diamonds.
The process of making CBN abrasive is similar to that of synthetic diamonds: scientists treat hexagonal boron nitride at high temperature and pressure to create cubic boron nitride and treat graphite in the same way to create diamond.  
CBN is well suited for ferrous materials in grinding operations, as it will not carbonize when interacting with iron (Fe), as diamond abrasives may. Typically, CBN is used for grinding steel, cast iron, die steel, tool steel, super alloys, and in some cases ceramic materials.
CBN has several attractive characteristics that make it superior to diamond in grinding operations:
Withstands heat, especially during high-speed applications

Does not cause grit that can dull bits

Stays sharp and cool because it does not react with steel

Diamonds can also react with transition metals, limiting their usefulness for grinding certain materials. Cubic boron nitride is stable and does not tend to react unfavorably with standard transition metals.
CBN grinding wheels are made by electroplating CBN particles on steel, using electroplated nickel to hold the grit in place. A single layer of CBN grit applied to the surface of a metal disc can grind even the hardest surfaces and last for years.