Rob Cosman's Plane AdjuSTAR 2.0- Lie-Nielsen Version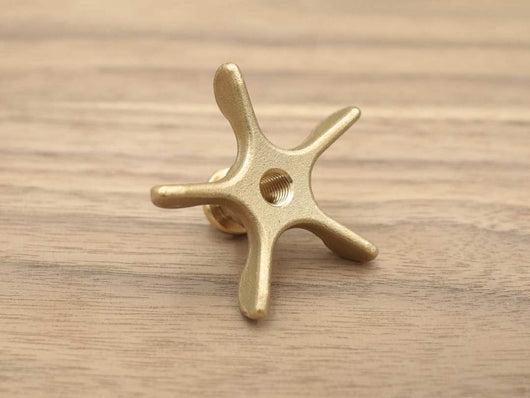 Gallery
Full Description
Customer Reviews
Do you find that using your plane's adjusting knob is a bit difficult? Well we did and decided to fix that by creating our Plane AdjuSTAR 2.0 adjusting knob to replace the original adjusting knob on most Lie Nielsen bench planes.
Our Plane AdjuSTAR 2.0 is larger and much easier to use than the original adjusting knob allowing you to make adjustments to your blade depth setting easily.  Our star design makes it easier for you to reach and turn the adjuster with your fingers and easier for you to reach the frog adjustment screw with a screwdriver. We know you will love our Plane AdjuSTAR 2.0.
DETAILS:
Designed to fit the Lie Nielsen brand bench planes numbers

 

4-1/2, 5, 5-1/2, 6, 7, and 8

.  Requires removal of handle to install (see installation video).
WIll Not Fit the Lie Nielsen bench planes 1, 2, 3, 4, 5-1/4, 10-1/4, 62, 164, 51 or other LN planes.
Diameter:

 

1-7/8 inch outside diameter.