WoodRiver Block Plane Low Angle with Preparation Service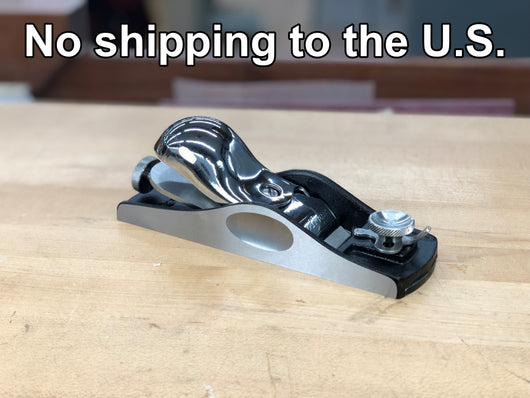 Gallery
Full Description
Customer Reviews
KITs
Sorry, our agreement with Woodcraft restricts us from shipping WoodRiver Planes to the U.S.
I own and recommend WoodRiver V3 planes. Their block planes are based on the venerable Stanley #65 low angle and #18 standard angle "Knuckle Cap" design, generally considered the best block plane designs around.  As with all WoodRiver planes, they are very well made and have an excellent price point, making them a "BEST VALUE."
Our Woodriver low angle block plane receives our Cosman preparation service so they are 100% ready to use out of the box.  See prep service below for description of what we do.
I prefer the low angle block plane over the standard angle for ergonomic reasons.  The lower lever cap nestles in your palm for better control and a more comfortable grip.  I recommend a low angle block plane as your second plane purchase, after buying a Jack plane. 

Plane Description:
Plane dimensions: 2"wide x 7" long. 

12 degree bed angle.

High carbon tool steel tool blade, 1-5/8" wide x 0.125" thick which is hardened to Rc 60-62 for maximum edge retention and ground to a 25° primary bevel angle. 

 Made from stress-relieved ductile iron castings.

Chrome plated Knuckle Cap.

Fully machined blade bedding surface to significantly reduce chatter.


Blade adjustment mechanism allows for crisp, easy adjustment of the blade using the rear adjustment knob.

The mouth can be adjusted from wide to extremely narrow in order to create whisper thin shavings to control tear out.

The stress relieved ductile iron castings are precision machined, flat and square.
Plane Preparation Service:  All planes require some preparation.  Our complete plane preparation service makes it so that no set-up is required by you. Your plane will be ready to use 'out-of-the-box!  Our Plane Preparation Service includes:
Remove all shipping grease
Chamfer / ease the edges of the plane.
Apply a back bevel and sharpen the blade.


Test the plane for proper operation and set-up.

Apply a light coat of Camellia oil to prevent rust. 
Sorry, our agreement with Woodcraft restricts us from shipping WoodRiver Planes to the U.S.