Cosmanized Workbench Lamp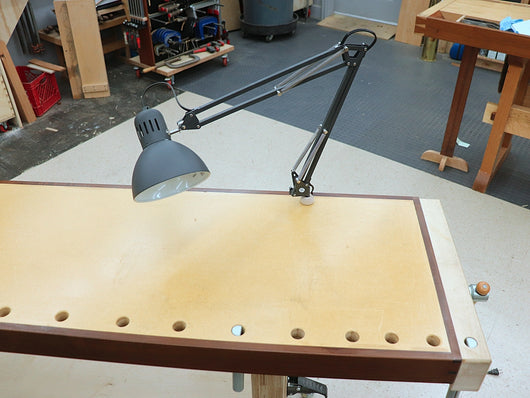 Gallery
Full Description
Customer Reviews
Even in a well lit workshop like mine, a workbench light is a must.  When cutting dovetails, tenons, or doing any work you want your workpiece lit up without any shadows. This adjustable lamp is what I use and I love it.
We beefed up the lamp's stem by inserting a steel rod into it to prevent the lamp from bending or breaking at this traditionally weak spot.
It comes with a special "Mushroom" shaped holder that we manufacture to hold the lamp.  The "mushroom" fits into a 1 inch diameter bench dog hole.  The mushroom has a 1/2 inch hole drilled through the center that the lamp stem fits into.     
Includes lamp and mushroom holder.
BULB NOT INCLUDED.

Bulb socket size: A19

Shade diameter: 7 inches
Cord length: 4 feet, 11 inches.
110V Power Supply ONLY (North America)