Rob Cosman's IBC 17-Degree Chisel: 1/2 inch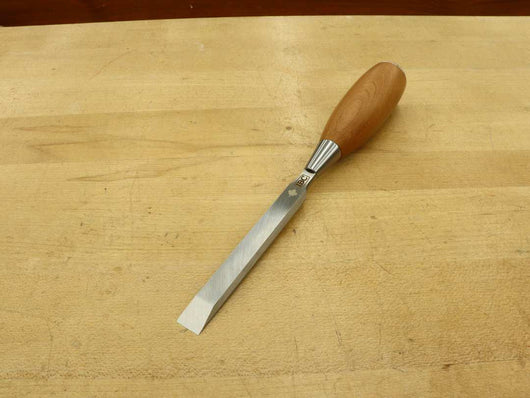 Gallery
Full Description
Customer Reviews
If you have ever chopped out waste in softer woods (Pine, Cedar, Aspen, Poplar, etc) then you have felt the frustration of the wood fibers collapsing and tearing out in big chunks with typical bench chisels ground at 25-30 degrees.  I fixed this problem by grinding a more acute bevel on an IBC chisel specifically for chopping out waste in softer woods.
Chop waste in soft woods without chunks tearing out.

17 degree primary bevel cleanly slices through soft wood fibers.

Available in custom turned cherry handle.
Product Details:
Size:  Bench chisel handle length: approximately 3.9 inches. Bench chisel total length: approximately 9 inches. Bench chisel blade length, including the tang is approximately 6 inches. Blade width: 1/2 inch.

 
Handle: Cherry handle is turned precisely on a lathe so it fits nicely to the ferrule and the end cap and have a butter smooth surface.  Shaped for a comfortable grip in the hand, they are finished with three coats of oil.

Steel:  Made from AISI High Vanadium A2 tool which holds an edge beautifuy.  Fully stress relieved, triple tempered, cryogenically treated and hardened to 60-62 HRC.  Primary bevel is ground to 17°. 

Flat Back.  Each chisel is tested on a granite reference surface to ensure the back is flat to within .0005 of an inch.

Design: The blade tang extends through a hardened steel ferrule and into a threaded hardened steel core that is inserted through the center of the wood handle and is securely attached to an aluminum striking cap.  This design allows you to easily replace the standard cherry handle with your own custom turned wood handle. 

Made in Canada