Cosmanized Half-Blind Chisels: WoodRiver 5/8 Inch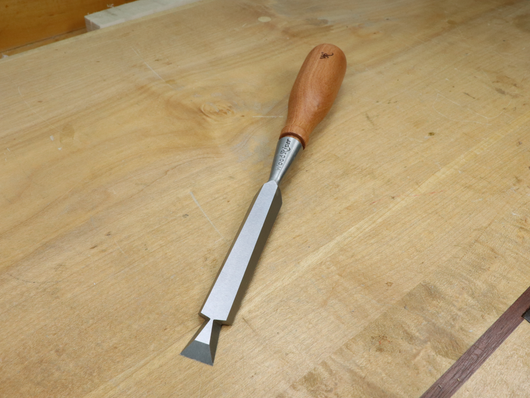 Gallery
Full Description
Customer Reviews
If you have ever cut a half-blind dovetail then you know how challenging cleaning out the pin socket is, especially in the corners.  Not happy with the skew and fishtail chisels available, I designed and made my own half-blind chisel and they work great!
These chisels are "Cosmanized" from a WoodRiver 5/8 inch socket chisel with a Bubinga wood handle.

Fishtail-shape makes accessing the back corners of the half-blind socket easy.

Sides of the chisel tip are sharp to sever fibers on the pin side wall and makes it easier to get into the corner.

One chisel does both corners verses a left and right set of skew chisels.

Pushing through endgrain is tough; unlike skew chisels, my chisel keeps your line of force straight.

My students love them!  Try it once and you will never want to cut half-blind dovetails without it.