WoodRiver Bench Chisel - 3/4 inch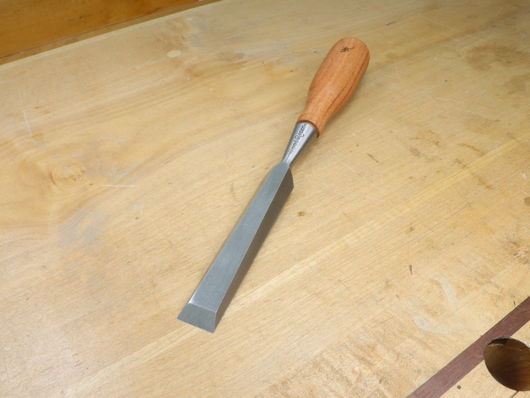 Gallery
Full Description
Customer Reviews
KITs
I looked hard to find a high quality, but medium priced bench chisels and I finally found them in the WoodRiver® Bevel Edge Socket Chisels.   Inspired by the classic socket chisels of the past, but improved upon by using modern metals and by making some design tweaks.  The result is a chisel optimized for detailed woodworking.
I am very impressed with the flatness of the backs of these chisels which means they only take a minimal amount of preparation work "out of the box." The transition from the "flat" of the back to the socket is designed with a gradual slope, preventing the back of the chisel from abruptly lifting on longer paring operations. The side bevels sweep back towards the centerline, allowing the chisel access to tight corners, which is especially important for dovetail work. The resulting flat area or "land" is a consistent 0.7mm – narrow enough for tight access but wide enough to prevent an uncomfortable sharp edge.
The complete tool is designed with balance in mind to increase comfort and effectiveness.  This is a chisel that will give you years and years of service and will become a favorite in your shop.
Individual chisels available in widths from 1/8 inch to 1-1/4 inch.

Forged from 100 CR-V steel for its edge holding property.

Factory-ground 25° bevel.

Tempered in a salt bath to HRC58-63.

Well fitting bubinga handles.

Each chisel ships with WoodRiver Silicon Chisel Guards.
Product Details
Blade length: 4 inches
Overall length with handle ranges from 9-5/8 inches to 9-7/8 inches.
Blade width  3/4 inch
Customer Reviews
Write a Review
Ask a Question
06/19/2022
Alfred P.

United States
Came in 6 days after waiting since last Dec from another company.great job. Great tool. I have used it a lot and am completely satisfied.
Great tool great service.
01/06/2022
Sean S.

Canada
Great chisels!
The backs, as advertised, are dead flat and needed only a little work on my medium and finest stone to bring out a mirror finish on the leading inch on the back edge. Took a micro bevel beautifully. The front, likewise, worked up beautifully and is razor sharp. They're a nice weight and the socket tang stays put until you tap it out to sharpen. The handle for my large sized hand feels just right and the wood and finish is smooth but is easily gripped and not slippery. For $50 a chisel, combined with December sales, I couldn't be happier.