Cosmanized WoodRiver Moxon Vise Hardware Kit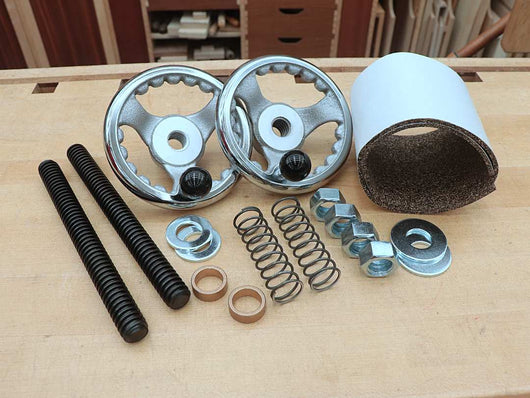 Gallery
Full Description
Customer Reviews
A Moxon Vise, named after Joseph Moxon (who described the vise in his book titled Mechanick Exercises), is a great vise, and best of all it is easy to build yourself. A Moxon vise is especially useful for cutting dovetails and sawing because it holds the material rock solid, and the middle of the vise is not obstructed by vise hardware. All you need is some 8/4 hardwood for the jaws and our "Cosmanized" hardware kit to make whatever vise size to best suit your needs.
We "Cosmanize" the WoodRiver Moxon Vise kit by adding two vise springs, two self-lubricating bushings, two revolving knobs, drilling and tapping a hole in each of the wheels for mounting the revolving knob, and providing a strip of cork-rubber to line the jaw with. These additions take the WoodRiver Moxon Vise kit to the next level.
Product Details:
Moxon hardware only (Kit DOES NOT include wooded jaws).
2 x 3/4 inch x 8 inch long acme threaded screws.
4 x Acme threaded nuts with washers.
2 x 3 inch long jaw opening springs (compressed spring length is 3/4 inch). 
2 x 3/8 inch long bronze self-lubricating bushings.
4 x 24 inch long cork / rubber self-adhesive strip.
General instructions for making the traditional style Moxon Vise.