Rob Cosman's Limited Edition Marking Gauge - Kingwood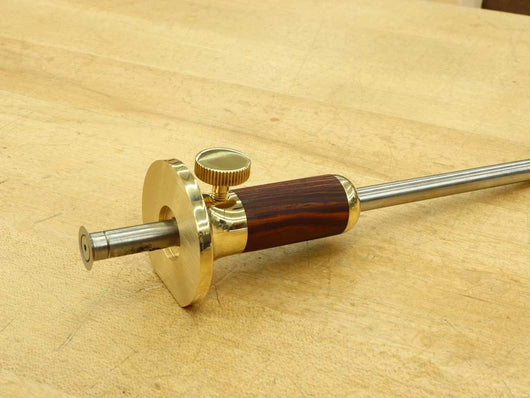 Gallery
Full Description
Customer Reviews
For the discriminating woodworker who appreciates the beauty and craftsmanship of a marking gauge crafted from unique species of select woods, I offer my Limited Edition Marking Gauge series.  These marking gauges have the  same design characteristics and specifications as my standard marking gauge but the beauty of a unique wood handle  
I love figured wood and I am always looking for pieces that will make stunning marking gauge and saw handles.  When I find a perfect piece of wood I create the handle from rough to finished.  I typically craft my Limited Edition Marking Gauges at the same time as I make my Limited Edition saw handles so you can buy a gauge to match your saw handle, if you like.
You are buying the actual marking gauge pictured on this page so you can see exactly what it looks like.   Once this gauge is sold - it is gone. 
This marking gauge is crafted from Kingwood (Dalbergia cearensis ).  Kingwood is an exotic wood native to Brazil and sometimes Mexico.  The heartwood is a dark purplish or reddish brown with darker black streaks. Sapwood is a pale yellow. Grain is usually straight; occasionally interlocked. Fine, uniform texture and a high natural luster.
Product Details

The second most important tool in cutting dovetails is your marking gauge.  The gauge line becomes part of the finished joint.  Here is why I think my marking gauge will help you cut better dovetails:
Using my "drop down technique", results in accurate setting of the board thickness.

The blade comes sharp, designed to sever the wood fibers not crush them, leaving a crisp gauge line.

The blade is fixed in use but can be rotated to a sharper area when it gets dull.  You can do this several times before having to resharpen.

Has a large flat on the brass head preventing the gauge from rolling on your bench.

The outside of the blade is flat, making for precise work.

Has a large knurled locking knob that is easy to tighten.

Comes standard with the 1/2inch diameter cutter head.  

Extra cutter heads available in 3/8 inch, 7/16 inch, and 5/8 inch diameters with or without rods.