Limited Edition 3/4 Dovetail Saw (Ebony, Black & White)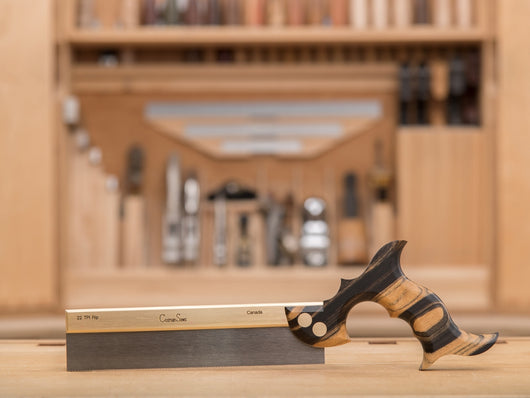 Gallery
Full Description
Customer Reviews
For the discriminating woodworker who appreciates the beauty and craftsmanship of a saw handle crafted from unique species of select woods, I offer my 3/4 Dovetail Saw in a Limited Edition series. These saws have the same design and specifications as my 3/4 Dovetail Saw only the handle is custom made from a select species of figured wood. 
I love figured wood and I am always looking for pieces that will make stunning saw handles.  When I find a perfect piece of wood I create the handle from rough to finished.  Grain orientation is critical for strength, particularly in the narrow neck.  Since figured wood often has numerous flaws I have to carefully layout the handles to get the best yield. 
This is a custom made, one of a kind saw.   An heirloom worthy to pass on for generations.  The picture is the actual saw you are purchasing.  Once it is sold - it is gone. 
The handle of this marking gauge is crafted from Black and White Ebony (Diospyros malabarica).  Black and White EBony is an exotic wood from Laos and Southeast Asia.  The heartwood is a pale straw color, with darker black streaks throughout; some pieces may be predominantly black rather than white. Sapwood is a paler white color, not always clearly defined. The grain is straight, with a very fine uniform texture and a high natural luster. 
My dovetail saws are the best saw on the market for cutting dovetails and is designed for rip sawing that leaves a smooth, ready-to-glue, finished surface.

I designed my 3/4 Dovetail saw with a thin .015 inch blade; 22 teeth per inch (TPI), filed rip along the entire tooth line; and a minimal .002 inch set per side. The relaxed cutting angle of the small front teeth allows you to start the cut with ease - a major issue with other saws!  The teeth, cut with a diamond-saw, slice cleanly and precisely through wood fibers.  The minimal set creates a small .019 inch sized kerf that guides the saw straight in the cut while the shallow 1-3/16 inch depth of blade (tooth-line to brass back) helps with stability while sawing to a line. The pistol grip handle conforms to your hand for a perfect, repeatable fit every time.
Product Details:

Size. Overall length (Toe to Handle tip): 13-1/2 inches.  Blade length (Toe to heal): 8 inches. Depth of plate under the back: 1-3/16 inches.

Weight: 12.50 ounces (+/- 0.5 ounces). 

Blade. Each of our 3/4 Dovetail Saw blades are made from .015 inch thick, spring steel.

Tooth Geometry.  Filed rip with a two-stage pitch. The first 1-1/2 inches is filed at 22 teeth per inch (TPI) with a 30 degree negative tooth rake, which allows you to easily start a cut. The rest of the blade is filed at 22 TPI with a 0 degree tooth rake allowing you to finish the cut with just a few strokes.

Set. Unlike most saw manufacturers who stamp out their saw teeth, leaving "dimples" in the blade, we individually cut out each of our saw teeth with a diamond saw.  This allows us to maintain a very slight set of only .002 inch (per side), since we don't introduce that "dimple" onto the blade.  This slight set produces a narrow .019 inch kerf that eliminates slop allowing the saw blade to accurately track in the saw kerf resulting in dead straight saw cuts with smooth ready-to-glue surfaces.

Brass Back: Rob Cosman 3/4 dovetail saws have a 1/4 inch thick x 3/4 inch wide brass back secured to the blade with peened and flushed copper pins.  Not only does the brass look wonderful but it imparts extra weight to the saw providing you a better balanced saw, allows the saw and gravity to do the cutting work, and helps you "feel" perpendicular.

Handle. Our unique "pistol grip" handle has memory enhancing carved finger recesses for a perfect and comfortable fit. A pair of brass split nuts secures the handle to the blade and the brass back. 

Handle Size & Determining your Size: Our handles come in two sizes: Regular and Large.  Please refer to the picture above showing how to measure your hand and determine what size handle is correct for you size hand.