Rob Cosman's Mallet - Regular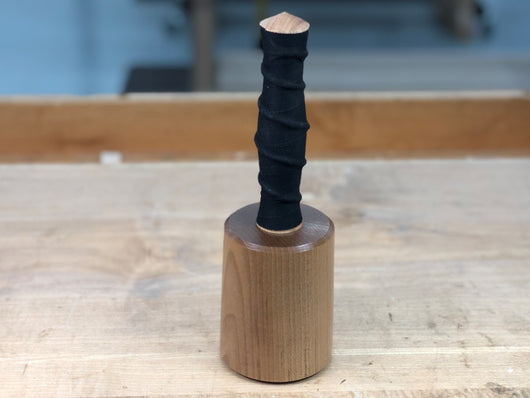 Gallery
Full Description
Customer Reviews
KITs
I prefer a carver's style mallet for chisel work.  With properly sharpened chisels, a medium weight mallet does the job without excessive fatigue to the craftsman. 
Early mallets I owned had smooth lacquered handles that had to be held tightly to prevent them from slipping.  A long day of chopping mortises or dovetails would leave my hand and wrist sore.  My solution was to tape the handle with sports tape like a hockey stick.  This allows me to use a relaxed grip with a lot less fatigue. 
We use resin impregnated maple heads, making for a very tough head that will give you years of use.  I think you will be pleasantly surprised at how comfortable my mallet is over the course of a long day in the shop.
Resin impregnated Maple heads.

The handle is inserted through the head, and is glued and screwed in place with two #12 by 1-1/2" coarse threaded screws that straddle the joint line.

The regular mallet head is 4 inches long. The resin impregnated maple head is turned on a lathe until it meets our desired weight standards; thus, the diameter measurement can vary slightly from mallet to mallet.  

 The overall length of the regular mallet with the handle attached is 9-1/2 inches long.

The overall weight of the regular mallet with handle is between 350 (12.3 oz) and 400 grams (14.1 oz)
Handle shape and hockey grip tape make it comfortable to hold with a relaxed grip.  We tape the handle for you.

Slight taper of the head improves the striking angle of the head.