Gallery
Full Description
Customer Reviews
I love to play hockey.  For good puck control you need a really good grip on your hockey stick.  This is why hockey players wrap the handles of their hockey sticks with stick tape using a unique wrapping method. 
I wrap my tool handles in the same way so I can have a good grip on my tool.  You can see in the product picture several examples of handles from my shop that are wrapped.  The video will teach you the wrapping technique I use.
Now you can have this same positive grip by buying some hockey tape and following my wrapping instructions in the video.  Just don't try and shoot a puck with your screwdriver!
Comes as a set of two (2) black rolls.  
Customer Reviews
Write a Review
Ask a Question
09/01/2020
Charles O.
United States
Great customer service and unique high quality products.
It's refreshing to see unique products that really work. I've been a carpenter/contractor for 35 years and seldom get impressed watching 99% of YouTube woodworking videos. Yours is very much the accept ion. Great work and am humbled by your Wounded Warrior Program. I now have hockey tape on everything ( we don't see that stuff in California! )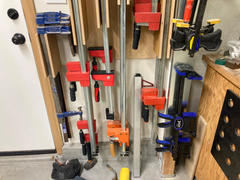 07/26/2020
Joel H.
United States
Wrapping my clamps handles
This tape stays on my clamp handles way longer than it the tape I wrapped my sticks with 40 years ago. It is exactly what I needed and the service (ordering and shipping) was excellent. A good place to shop.
07/11/2020
Richard S.
United States
Hockey tape - who knew (from a southern Iowa guy) !
Great stuff - wrapped many of my tool handles and the grips are great. Control of previously "wooden handle only" tools is greatly improved. Have to order more rolls !
06/30/2020
Alan W.
Canada
Survey Response
Excellent, should have done this with hockey tape years ago, like Rob says it does the job fir older hands. I purchased a number of other items as well significantly the low angle block plane, dovetail saw and the 5 1/2 Wood River Jack Plane (serviced and ready to go), all three items are much better than one is lead to believe, exceptional. The Cosman's know their business, wish I had seen or heard about RCW many years ago. My advice to anyone looking to buy hand tools of the highest quality that do not break the bank is to go on Rob Cosman's site to purchase. Believe me you will not be disappointed.
04/23/2020
james p.
United States
Very good thanks to you
Very good thanks to you and Rob.