Rob Cosman's Card Scraper: Thin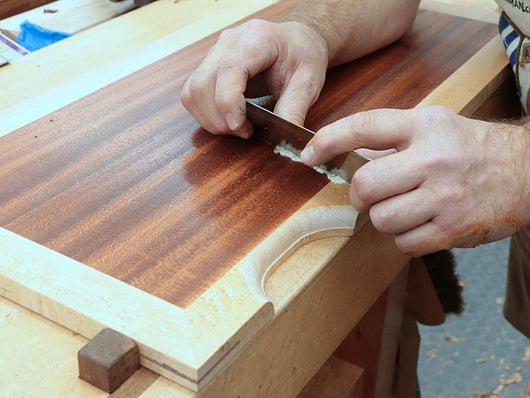 Rob Cosman's Card Scraper: Thin
Regular price $14.95 USD Sale
Gallery
Full Description
Customer Reviews
KITs
Card scrapers are the tool of choice when working with tear-out prone wood that will not respond well to a plane.  While not typically an item used everyday, it is a tool that when you need it, nothing else will do.  
We make our Thin Card Scraper with the same high carbon tool steel we use for our saw blades. Our Thin Card Scraper is 6 inches (152mm) x 2-1/2 inches (63mm).  The blade is .020 inches (.5mm) thick, making for a very supple scraper.  The blade has been milled flat (better than +/- .001) and square on both of the long edges, and is ready for you to polish and turn a burr.
Thin Scraper Blade: 

6 inches (152mm) long x 2-1/2 inches (63mm) wide x .020 inches (.5mm) thick.
If you have any question or concern about any of our products, you can reach us at: support@robcosman.com
Business Hours: Open Monday - Friday: 8:00am - 4:00pm (Eastern Time). Closed Saturdays and Sundays. Also closed on all Canadian statutory holidays and New Brunswick Provincial holidays.