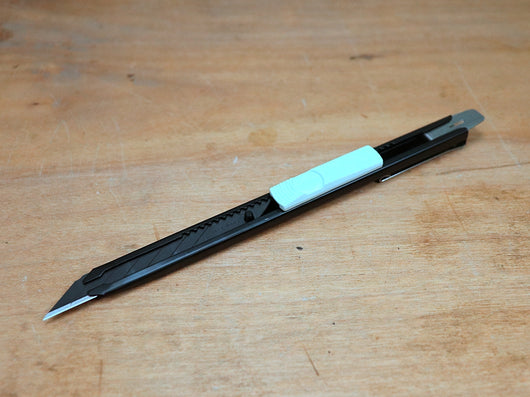 Gallery
Full Description
Customer Reviews
Finding a good all purpose utility knife for the shop can be a challenge.  The inexpensive big box store cheap utility knives have low quality blades that quickly dull and the plastic bodies are big and break easily.  Tajima is different.
Tajima is a professional-class, high-quality tool maker from Japan that we love.  We found this handy little metal body utility knife with a high quality, long lasting blade that is the  perfect small size.  It fits right into most apron pencil pockets.  I find it very convenient for general purpose cutting around the shop.  I always have it in my apron pocket ready to go. Each blade has 6 breakaway pieces to expose a fresh point each time.
 Extra-strong, metal tempered, blade sleeves
Multi-function "micro-driver" tip.
30 degree, acute angle, razor black blade

Comes with the metal body and one blade installed
6-1/4 inches (15.875 cm) long, 7/16 inches (1.1 cm) wide, 3/16 inches (.476 cm) thick
25 grams

Replacement blades available