Rob Cosman's Drawer Bottom Plane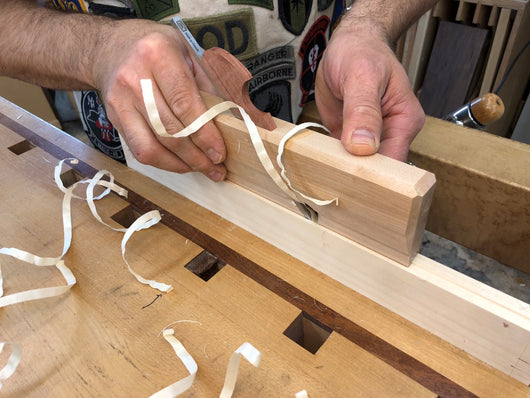 Gallery
Full Description
Customer Reviews
When I was making custom furniture I made and used my own planes to cut drawer bottom grooves.  The plane was easier and more precise than using a machine.  When I started teaching I made a few planes for my students and when I featured it on my drawer making DVD I began to get a lot of requests for them.  Now you can have one too.
 This plane cuts a 1/4" groove 3/8" up from the reference edge and 1/4" deep.

The body is made from Birch or Maple

The blade is 3/16" thick and 1/4" wide.

The iron fits closely in the mortise to minimize set up time. 

Easy to set up: get the blade close, set the wedge hand tight, tap the blade to the desired setting and seat the wedge with a light tap. 

Tapping the rear of the plane will release the wedge. 

Best of all, nice and quiet!