WoodRiver No. 4 Smoothing Plane with Preparation Service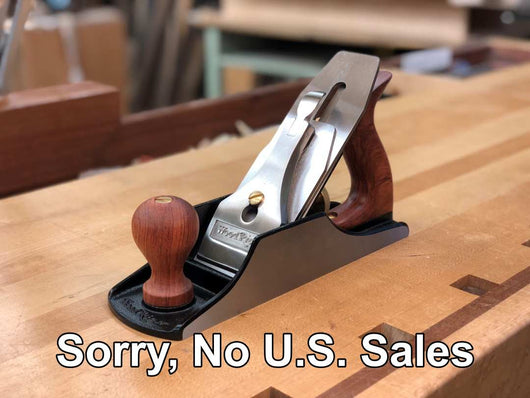 Gallery
Full Description
Customer Reviews
Sorry, our agreement with Woodcraft restricts us from shipping WoodRiver Planes to the U.S.
I own and recommend WoodRiver V3 planes. These planes are based on the reliable Stanley Bedrock design, are very well made, and have an excellent price point making them a "BEST VALUE."
All of our WoodRiver bench planes receive our Cosman preparation service so they are 100% ready to use out of the box.  See prep service below for description of what we do.
Traditionally, a smoothing plane is the last plane used on a wood surface. When sharpened and used properly, it produces a finish that surpasses that made by sandpaper.  
Because I keep my jack plane freshly sharpened I normally don't need to use a smoother, but on those occasions when I do, I reach for my WoodRiver No. 4-1/2.   
I think the No. 4 is useful for folks with very small hands and low body weight that would find a No. 4-1/2 too big or heavy to use.
No. 4 Plane size: 2-7/16" wide x 9-7/8"long with 2"wide blade.

Includes our Plane Preparation Service.
Heavy, stress-relieved ductile iron castings.

Fully machined adjustable frogs bedded at a 45 degree angle.
Thick steel blade and chipbreaker dampens vibration making solid planing.
Lightly finished Bubinga handles provide comfort and control.
Soles and sides are machined flat and square within tightly held tolerances.
Plane Preparation Service Includes:
Chamfer / ease the edges of the plane.
Tune the lateral adjustment lever.

Remove all of the shipping grease.

Ensure the sides are within +/- 1.5 thousandths of an inch of square to the sole.
Flatten the back of the lever cap.

Flatten and fit the chip-breaker to the blade.

Apply a back bevel and sharpen the blade.

Test the plane for proper operation and set-up.

Apply a light coat of Camellia oil to prevent rust. 
Sorry, our agreement with Woodcraft restricts us from shipping WoodRiver Planes to the U.S.


Which Plane?