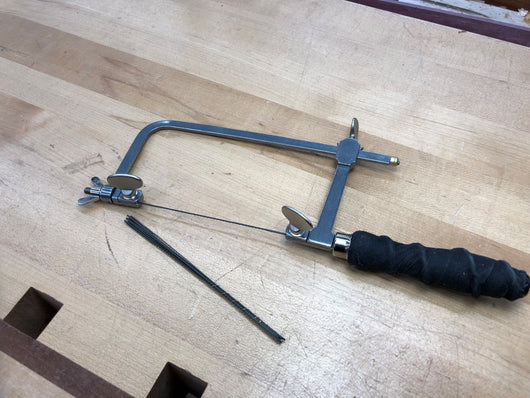 Gallery
Full Description
Customer Reviews
KITs
I prefer sawing most of my dovetail waste out with a fret saw instead of chopping it out with a chisel.  Sawing takes less effort and is easier to control.  My fret saw features;
Pinned handle to prevent separation

Handle taped like a hockey stick for better grip and control

Frame is stiff and top mounted wing nut allows tightening blade to resist bowing

Light and with just a 3" depth of throat it is balanced

Quick twist of the blade at clamping points eliminates throat capacity restrictions.

Accepts 5 inch blades.  I highly recommend using our five inch, 12.5 tpi skip tooth blades with this saw.  

Skip tooth blades cut faster, especially in hard woods.

Includes a package of 12 blades.
Size: Overall length (maximum extension: 12 1/2 inches; (minimum extension) 8 inches.  Maximum frame opening: 6 Inches.  Depth of throat: 3 inches.
Height: 4 1/2 inches.
Weight: 160 grams.
Frame: Made from forged steel construction for exceptional performance and durability features.
Handle:  Wooden 4 inch long, wrapped in hockey grip tape.
Blade:  Length: 5 inches.  Width = 0.038 inches, Thickness = .016 inches,  Teeth Per Inch (TPI) = 12.5 .