Rob Cosman's Kerf X-10: 3/4 Size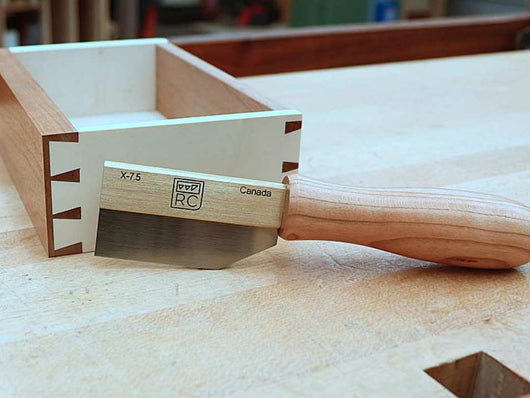 Gallery
Full Description
Customer Reviews
KITs
Back in the summer of 1987 master craftsman Tage Frid showed me his ingenious method of finishing the saw cuts on the pin board of a half-blind dovetail joint.   I couldn't believe how well and fast his method worked - it was like magic! Neil, a student from South Africa, suggested I make Tage's idea into a tool.  That inspired my Kerf X-10 (extend the saw cut - get it?).  If you cut half-blind dovetails you will love this tool!
Kerf X-10: 3/4 size completes the saw cut in half blind dovetails.

Waste removal is faster than paring and more accurate.

Works in soft and hardwoods.

The Kerf X-10: 3/4 size works in saws kerfs in the .019 inch to .021 inch width range, such as our 3/4 dovetail saw.

Handle is made of Cherry.

Blade is affixed to the ¼ inch x ¾ inch brass back with peened copper pins.

Brass back has a  1-1/2 inch x ¼ inch x ¼ inch tenon epoxied into the handle.

Working edge of the blade is squared to the sides and ready for use.

Overall length is 7 inch, blade length 2 ¾ inch, depth ¾ inch.
Customer Reviews
Write a Review
Ask a Question
07/27/2023
Michael G.

United States
Great Dovetail Tool
I have the original Kerf tool and purchased the 3/4 tool to use with a thinner saw blade. It works like a charm. Saves a lot of time.
02/07/2023
George F.

United States
Kerf x10
Great product great service
07/09/2022
CHARLES W.

United States
Kerf X-10, 3/4
This is a great addition to my dovetail hand tools. It is the right size and has a great feel.