Whiteside HSS Countersink Drill Bit Set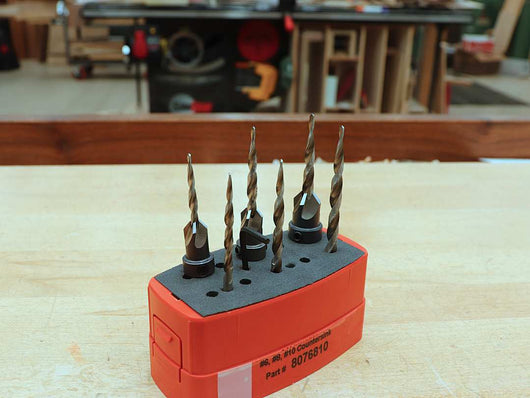 Gallery
Full Description
Customer Reviews
We have our countersink drill bit set custom made by Whiteside Machine Company, one of our favorite tool manufacturers.  All components in our countersink set are made from tough High Speed Steel, not the lesser quality and less expensive carbon steel commonly found in other countersink drill bit sets.  Use to countersink holes in wood, plastic, or aluminum for flat head screws. 
The set is designed for use with #6, #8, and #10 sized screws. 
The HSS drill bits are Taper Point bits which provide better control on entry and exit and helps reduce blowout on exit. The tapered hole provides better screw to wood thread contact and holding power.
82° HSS Countersink Heads are designed to slip over the tapered drill bit and affix with dual set screws into the flutes. The drill length is adjusted by sliding the countersink head up or down the bit.  
Product Description:
Set includes 6 x HSS tapered drill bits, 3 countersink heads, allen wrench, and case.  
2 x #6 HSS Tapered drill bits, 1 x #6 HSS Countersink head.
2 x #8 HSS Tapered drill bits, 1 x #8 HSS Countersink head.
2 x #10 HSS Tapered drill bits, 1 x #10 HSS Countersink head