Rob Cosman's Premium Wagon Vise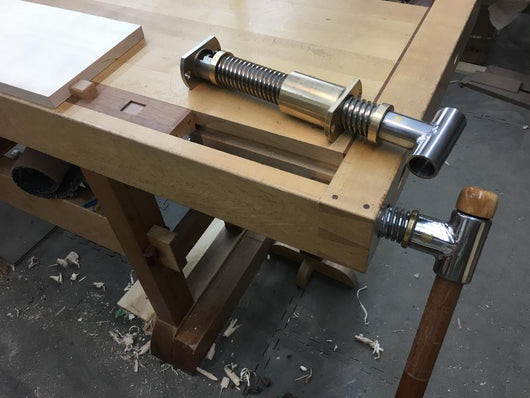 Gallery
Full Description
Customer Reviews
A workbench is the most important tool for a hand tool woodworker and vises are the most important accessories for the workbench. Vises securely hold stock to the workbench so the wood can be sawn, planed, or chiseled.
I prefer a wagon vise to a tail or end vise for holding stock down on the bench for planing.  Unlike the other vises, a wagon vise positions the entire piece of wood on the table surface; nothing is hanging off the end.  I also find a wagon vise is faster and easier to use than a tail or end vise.
Not satisfied with the commercially available wagon vises I teamed up with a local machinist and we designed a professional, high quality wagon vise.  This is the wagon vise I personally use and now you can too! Here is why you will love this vise:
Precision machined from high grade brass and steel in Ontario, Canada.

Has a double start, Acme threaded steel rod, that travels two - three times faster than other vises.  Just two revolutions of the handle moves the vise 1 inch !

A 1-1/2 inch diameter polished threaded rod moves through a 3 inch long, 2 inch diameter, self lubricating, solid brass nut silky smooth.

The knuckle flange is 1-13/16" wide x 3" long to securely hold the travel block of the vise.

The "T" handle Is made for a 1 inch handle you custom make.

Overall length is 13 inches

Clamping capacity is 5-1/4 inches.