3/4 Shawn Shim Dovetail Offset Tool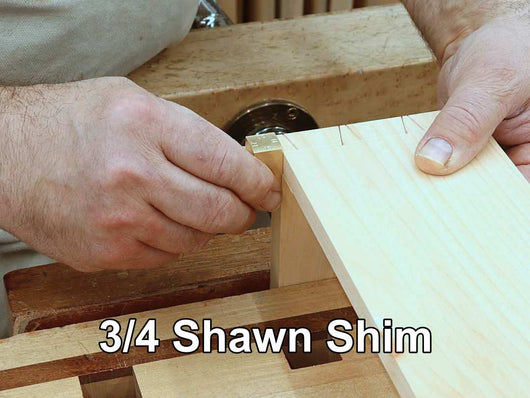 Gallery
Full Description
Customer Reviews
One of the most difficult tasks in hand cutting dovetails is accurately transferring the tails and precisely sawing the pins.  Rob's improved method of transferring tails to the pin board by offsetting the tailboard by the thickness of the saw kerf takes all the guess work out of where to saw.
Offsetting by the exact thickness can be challenging, but the 3/4 Shawn Shim helps improve your offset accuracy.  The brainchild of one of our Purple Heart Project alumni, we named the shim in honor of him.
Precisely milled to work with our 3/4 dovetail saw, which requires a kerf thickness of .019 inches. The 3/4 Shawn Shim has four different offsets to allow you to tighten or loosen the fit of the dovetails as needed. 
CNC milled from solid brass. 
5/8 inch x 5/8 inch wide.  1-1/4 inches tall.
Four offset sides: .018, .019, .020, .021 of an inch thickness.
Offset amount engraved on each end of the shim.