Limited Edition IBC Chisel Handle: Sapele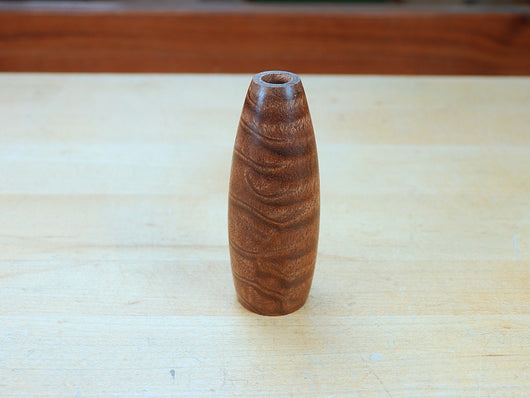 Gallery
Full Description
Customer Reviews
If you want to add a "Wow" factor to your IBC bench chisels then consider our limited edition chisel handles crafted by our good friend Ammed from unique species of domestic and exotic wood.  Made to exclusively fit the IBC bench chisels that we designed and sell.
**** Includes the chisel handle ONLY.  Does NOT include the IBC Chisel which must be purchased seperately*****
This handle is crafted from Sapele (Entandrophragma cylindricum). This exotic wood is found in tropical Africa.  Heartwood is a golden to dark reddish brown. Color tends to darken with age. Besides the common ribbon pattern seen on quartersawn boards, Sapele is also known for a wide variety of  other figured grain patterns, such as: pommele, quilted, mottled, wavy, beeswing, and fiddleback. Grain is interlocked, and sometimes wavy. Fine uniform texture and good natural luster.
IBC bench chisels have a unique design where the the blade tang extends through a hardened steel ferrule and into a threaded hardened steel core that is inserted through a hole drilled through the center of the wooden handle (shown in green in the below picture) and is securely attached to the aluminum striking cap.  
This design seperates the transmission of force from the handle and to the metal which passes through the handle.  This means you can easily replace the wooden handle with any wood species you like since the wood is ONLY used for griping the chisel.
Our limited edition chisel handles are slightily larger in diameter than the original IBC handle, making our limied edition chisel handles a little more bulbous and thus fits your hand more comfortably than the original handle. Plus we hand select the most striking woods to make our chisel handles from.
The picture you see is not neccessarially the actual chisel handle in your selected wood species that you will receive but is highly representative of the handle in the wood specis that you selected that you will receive. Differences from the picture will be extremly slight, almost unnoticable.