Rob Cosman's Professional Bench Crosscut Saw
Gallery
Full Description
Customer Reviews
Every hand-tool woodworker needs a minimum of three backsaws: Dovetail, Tenon, and Crosscut Saws. I designed and manufacture two different professional crosscut saws; my Joinery Crosscut and my Bench Crosscut to meet this requirement. 
Both of my crosscut saws are specialized for crosscutting applications.  My Bench Crosscut Saw is designed for general crosscutting while my Joinery Crosscut Saw is designed for making finished, ready-to-glue joinery cuts.
I designed my Bench Crosscut Saw with a hefty .025" thick blade, aggressive 13 tpi teeth filed crosscut, and a minimal 2000th inch set per side.  The teeth, formed with a diamond-saw, slice cleanly and precisely through cross-grain wood fibers.  
The minimal set creates a small kerf that guides the saw straight in the crosscut while the shallow 2 inch depth of blade  (tooth-line to brass back) helps with stability while sawing to a line. The pistol grip handle conforms to your hand for a perfect, repeatable fit every time. 
We offer limited edition handles in bone resin and a variety of unique species of select woods.  Click HERE to see the current availability.

10% of all saw sales go to my Purple Heart Project. Click HERE to find out more about this project.
Product Details:
Size. Overall length (Toe to handle tip): 15-7/8 inches.  Blade length (Toe to heal): 11 inches.  Depth of blade under the back: 2 inches.

Weight: 570 grams (20.1 oz). 

Blade. Made from .025 thick, spring steel.

Tooth Geometry. Filed crosscut at 13 teeth per inch (TPI) and a 0 degree tooth rake.

Set. Unlike most saw manufacturers who stamp out their saw teeth, leaving "dimples" in the blade, we individually cut out each of our saw teeth with a diamond saw.  This allows us to maintain a very slight set of only .002 inch (per side), since we don't introduce that "dimple" onto the blade.  This slight set produces a narrow .029 inch kerf that eliminates slop allowing the saw blade to accurately track in the saw kerf resulting in dead straight saw cuts with smooth ready to glue surfaces.

Brass Back: The brass back is 1/4″ thick x 15/16″ wide and is secured to the blade with peened and flushed copper pins.  Not only does the brass look wonderful  it imparts extra weight to the saw providing you a better balanced saw.  This enables  the saw to do the cutting work and helps you "feel" perpendicular.

Handle. Each of our "pistol grip" handles have memory enhancing carved finger recesses for a perfect and comfortable fit. A pair of brass split nuts secures the handle to the blade and the brass back.  Our crosscut saws are available in ebony Swanstone, a resin-composite material reinforced with glass for durability.  

Handle Size & Determining your Size: Our handles come in two sizes: Regular and Large.  Please refer to the picture above showing how to measure your hand and determine what size handle is correct for you size hand.
Customer Reviews
Write a Review
Ask a Question
05/08/2020
Mark M.
United States
Bench Cross Cut Saw
I've used many high end bench saw in the past 45 years of woodworking. This saw is flat out the best saw I've owned - hands down! It makes true cuts effortlessly that are ready for glue right out of the box. Great job Rob and crew! Rob's Professional Joinery Crosscut Saw will be my next saw purchase.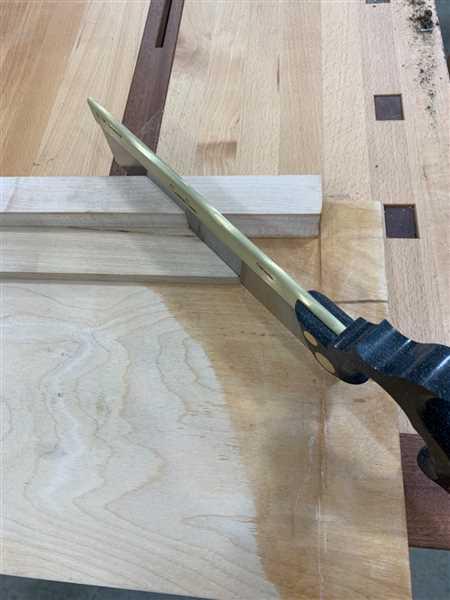 01/07/2020
Justin B.
United States
Just my thoughts
I first started with veritas, then went to lie Nielsen, them to bad axe. None of those saws for me every felt like an extension of my arm. Constantly fighting the or stirring the cut.tgey weren't comfortable. My first experience with a cosman saw was the DT one and what a difference. It truely feels like I grew a saw for a hand. I have heard the saw is sometimes hard to start but I have never experienced that. I have all of them except the large tenon, which I plan on getting soon. It was an investment but I sold every other back saw I had to buy them. I believe these are the best back saws out there. Hey rob when are the panel saws coming j/k
10/02/2019
Anonymous
United States
Bench crosscut saw
This saw makes it easy to make straight cuts. When I have just a couple of cuts to do I use it instead of the miter saw.
Bench Crosscut Saw
Very nice saw. Cuts straight. I love it. So do other students in my MASW class. Highly recommend it.
06/02/2019
Jim D.
United States
Delivers what he promises
This is a great saw. I made the mistake of trying cheaper saws and now regret those choices. I could use that money now on better quality things I would like to have. Be smart; buy the best the first time around. This is the best.