Video: Woodcarving #1 - Sharpening Techniques with Chris Pye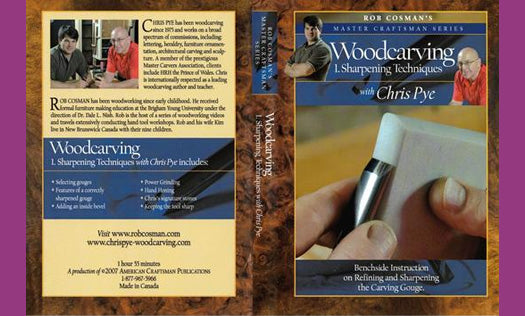 Gallery
Full Description
Customer Reviews
KITs
In this video Rob and Chris provide you bench side instruction on how to make the gouge chisel do more than you may have thought possible.  Chris starts with a new tool and thoughtfully walks you through all the steps of preparation to finally achieve that desired cutting edge.  You are guided through the maze of available chisels, Chris answers the how's and whys and suggests where to start when it comes to acquiring tools.  Included in this video are a few of the practices Chris was taught during his apprenticeship that are not widely known yet I consider revolutionary as per sharpening a gouge. Chris is an excellent teacher and I think the format we used will make learning the material easy! 
Running Time: 1 hour and 55 minutes

Available as a DVD or as on demand streaming
Customer Reviews
Write a Review
Ask a Question
10/30/2020
Mark N.

United States
Sharpening Techniques with Chris Pye
Video was dated and poorly produced. It didn't have the Cosman quality as I expected.
10/02/2019
Dale S.

United States
Sharpening Techniques
The DVD was of excellent quality, Chris Pye is an amazing wood carver. However the subject was not at all what I expected. Rather than learning how to sharpen new carving tools, I was looking for how to maintain sharpness on tools as they are used.