Liquid error: Could not find asset snippets/amai_stp-product-snippet.liquid
IBC/Rob Cosman Revival Plane Blade Set (2-3/8 inches)
Gallery
Full Description
Customer Reviews
One of the best ways to improve the performance of an older Stanley or Record plane is to replace its original blade set with a thicker, premium blade set. 
Not satisfied with the way replacement blade sets fit and worked in older planes, I teamed up with IBC and designed a blade set specifically designed to work in older planes   
The problem is that the older plane's adjustment system was not designed for modern, thicker, premium blades.  To solve this, we added special "tabs" to our premium blade set that enables it to engage the older plane's adjustment system in the same manner as the original blade set.  This allows the blade set to adjust like an original Stanley but perform like the modern, premium blade that it is.
2-3/8 inch wide Blade & Chip Breaker Set.  Fits older Stanley and Record No. 4-1/2, 5-1/2, 6, and 7 planes.

At .140 inches thick, this blade set is almost twice as thick as that found in older Stanley and Record planes.

It may be necessary to file open your plane's mouth to accommodate the thicker blade.

Blade is high vanadium A-2 steel, 0.140" thick, 60-62HRc and cryogenically treated to optimize the cutting edge's wear resistance properties.

Chipbreakers are unique – high carbon 0-1 steel, 0.125" thick and hardened to 30-32HRc for added stiffness.

Bevels are mated to achieve a flatness tolerance of +/-0.001" along the entire width of the cutting edge.
Customer Reviews
Write a Review
Ask a Question
03/08/2020
Larry C.

United States
Revival blade set
I purchased the blade set for an old Stanley #6 I restored. I did have to open the throat of the plane. The blade set worked as well as I had hoped it would. I will be getting another for an old Stanley #4 I also restored.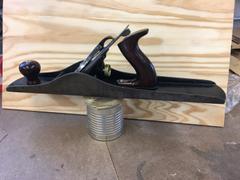 01/20/2020
Eddie L.

United Kingdom
Ibc plane blade
Great...sharpened on trend 1000 stone and shapton 16000. Virtually no play in my Stanley 5 1/2 now. Works just like a lie Nielsen. However I had to pay an extra 20% in tax to UK gov. So would have been that much cheaper to purchase from Classic Handtools - UK.
10/02/2019
roy p.

United States
Great service, and very excited about this blade...
I ordered the very thick IBC blade to go into my new to me, NOS 1960's Stanley 5 1/2 plane. I'm a retired architect, living in Guatemala, and I won't be able to pick up the new blade until next time I'm in the States, so I can't comment on the product, yet. But I can comment on the service. I ordered the blade one day, and two days latter, I received a phone call from Rob Cosman, himself, thanking me for my purchase, and letting me know that it might take an extra day or two to ship, due to uncertain inventory. He was so polite, respectful, and clear in letting me know what to expect in the next few days, just the same courteous and crystal clear fella you see in all his terrific teaching videos. I love him! Well, I received notice in just a couple more days that the blade had arrived at my sister's house, and I can't wait to pick it up when I visit near the end of the year. I hope to then have an opportunity to comment on my experience with the new blade... I anticipate it will be a joy. For now, I can say, I have never, ever felt so cared for as a customer. Thank you Rob!