IBC/Rob Cosman Revival Plane Blade Set (2 inches)
Gallery
Full Description
Customer Reviews
One of the best ways to improve the performance of an older Stanley or Record plane is to replace its original blade set with a thicker, premium blade set. 
Not satisfied with the way replacement blade sets fit and worked in older planes, I teamed up with IBC and designed a blade set specifically designed to work in older planes   
The problem is that the older plane's adjustment system was not designed for modern, thicker, premium blades.  To solve this, we added special "tabs" to our premium blade set that enables it to engage the older plane's adjustment system in the same manner as the original blade set.  This allows the blade set to adjust like an original Stanley but perform like the modern, premium blade that it is.
2 inch wide Blade & Chip Breaker Set. Fits older Stanley and Record No. 4 and No. 5 planes.

At .140 inches thick, this blade set is almost twice as thick as that found in older Stanley and Record planes.

It may be necessary to file open your plane's mouth to accommodate the thicker blade.

Blade is high vanadium A-2 steel, 0.140" thick, 60-62HRc and cryogenically treated to optimize the cutting edge's wear resistance properties.

Chipbreakers are unique – high carbon 0-1 steel, 0.125" thick and hardened to 30-32HRc for added stiffness.

Bevels are mated to achieve a flatness tolerance of +/-0.001" along the entire width of the cutting edge.
Customer Reviews
Write a Review
Ask a Question
06/08/2020
VictorHajiUusO A.
United States
IBC blade
POOR! I have emailed Rob twice, sent a message via the contact us page of your website and a message to one of the live videos and still have not heard anything from RC. The blade I received is rusted and pitted on both corners and I do not want to have to do major repairs just to get an acceptable blade with a sizable portion of the blade ground off.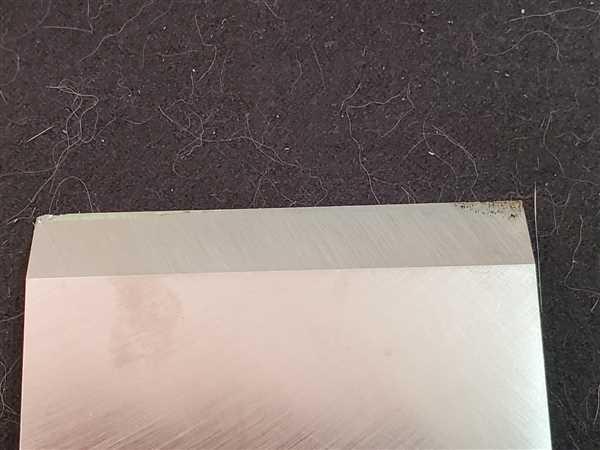 03/12/2020
Keith M.
Canada
IBC revival blade
with a little modification to my plane I got the IBC blade installed and am enjoying top notch performance from this blade/chip braker
Outstanding customer service
How a business owner handles something small speaks volumes about them and solidifies a hard earned reputation. I received a call from Rob, not Rob's assistant or the order fulfillment person, but from Rob, at 10pm on a Monday (inside of 24 hours from placing the order). Goes to show how hard he and his team are working. He wanted to thank me for the order and let me know that sadly my order would be delayed. He provided an estimate for when the item would be available, and apologized. No excuses were made, simple straightforward, honest communication. I think with most places you might order something from you would be lucky to get an email in the event of a delay. More than likely you would have to be the one calling or emailing to find out any info at all. This is my very first order from Rob's website. It was fairly inexpensive and relatively insignificant in the grand scheme of his business. However, he chose to handle it with personal attention. It is clear that Rob's commitment to excellence extends far beyond his workbench. As far as I am concerned, whenever I need something related to woodworking, Rob Cosman will be my first stop. He will have my business at every opportunity, and I will recommend him to any woodworker I meet.
01/05/2020
Rodney S.
United States
Worthwhile purchase
I really like the Rob Cosman Rival Plane Blade set. Have only used it on one project so far but it was very, very nice. Smoothed the face of a cherry drawer front and it performed like a brand new plane. Absolutely no chatter, very thin shavings as I fitted the drawer sides (poplar) with very little downward pressure on the plane necessary. Very happy with it. Considering another one for an older jack plane.