Limited Edition Eggbeater Drill: Millers Falls #2 (222)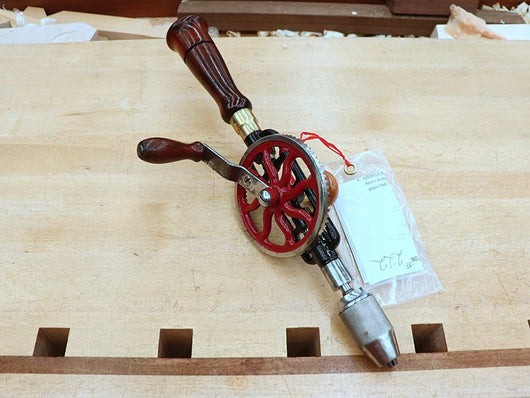 Gallery
Full Description
Customer Reviews
While hand brace drills are designed for drilling larger-sized holes, "eggbeater" style drills, such as this one, were designed for drilling small-sized holes with great accruracy.  
They have a malleable iron frame which was enameled black. The drive gear was painted red, and it has a hollow hardwood main handle (for bits) and a cap.   Ball thrust bearing on spindle. There is a three-jaw spring type chuck which is adjustable from 0-3/8 inch which will work with modern bits.
In the mid twentieth century companies like Millers Falls had innovated and perfected their eggbeater-style hand drill designs and manufacturing techniques, producing high quality drills demanded by woodworking professionals of the day. Most modern hand drill made today do not come close to the quality of these vintage hand drills made before the 1960's. 

Fortunately, vintage eggbeater-style drills are plentiful, but they have been sitting around unused and unmaintained for 40 years or more and need more that just an exterior cleaning. Of significant note, eggbeater-style drills are more delicate than other style drills and the metal gears wear out under hard use, so a complete inspection is needed to determine a good drill from a worn out drill. 
Our drills are professionally inspected and restored to a better than new condition by Ernie Stephenson, our master hand drill restorer.  Watch the accompanying video to see Ernie explain how he restores each drill.  
Brand: Miller's Falls
Model: No 2 
Length:  14-1/2 inches.
Max Drill Bit Diameter: 3/8 inch
Ernie's 6-Point Eggbeater-Style Drill Restoration Process:
BREAKDOWN & INSPECTION: The drill is inspected for over all condition. If it is too badly rusted or damaged for restoration the drill is rejected. 
FRAME & GEAR WHEELS STRIPPED & CLEANED:  The frame and the gear wheels are soaked, cleaned, and the paint is stripped.  The frame and the drive wheel are repainted with creamic based paint.  Gears are inspected, cleaned, and polished.  
HANDLE AND KNOBS STRIPPED AND REFINISHED:  The wood handle and knob are stripped and at least two coats of gun stock oil are applied.  If missing, a new knob is turned based on the original knob pattern.   Ferrule is buffed and polished.
CHUCK DISASSEMBLED, INSPECTED, & CLEANED: Chuck parts are inspected for excessive wear and replaced if worn.  All parts are soaked in solvent, hand cleaned, then lightly lubed.  The chuck is reassembled, polished, and packed with grease.  Knurling is wire brushed to avoid dulling.
THRUST BEARINGS INSPECTED. Thrust bearings are inspected and replaced if worn.  Bearings are lightly oiled. 
REASSEMBLED AND ADJUSTED.  All parts are reassembled, adjusted, and lubed to run smoothly.