Rob Cosman's Dovetail Trainer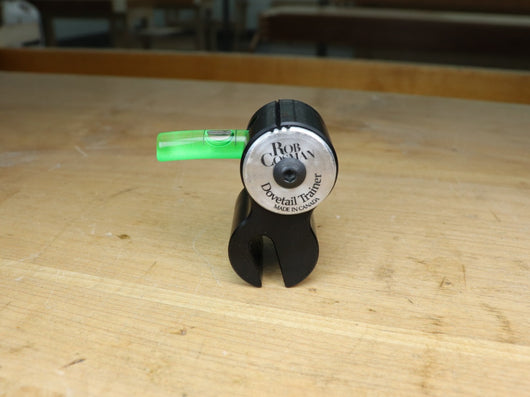 Gallery
Full Description
Customer Reviews
KITs
Description
The most common problems students have when learning to cut dovetails  is how to make a plumb (straight up and down) cut on the pins and angled cuts on the tails.  The secret is to develop the muscle memory so you can "feel" these cuts.  I developed my Dovetail Trainer to help students quickly and accurately develop this "feel" and build lasting muscle memory. 
Attaching my Dovetail Trainer to the end of your dovetail saw gives you a visual reference telling you if you are holding your saw correctly.
In just a couple days of practice you will be able to remove the trainer and make those critical cuts from "muscle memory".
 Made from strong "Delrin", its light weight and won't throw off  your sawing.
It adjusts quickly and easily for sawing "plumb", 1:6 angle (9.5 degrees) left and 1:6 angle (9.5 degrees) right.
Fits any saw with up to a 1/4 inch thick back and holds in place with a non-marring nylon set screw.
Has highly visible green oil filled vial for a stable bubble.
Works left or right handed.
Reviews