Rob Cosman's Kerf X-10 (Seconds)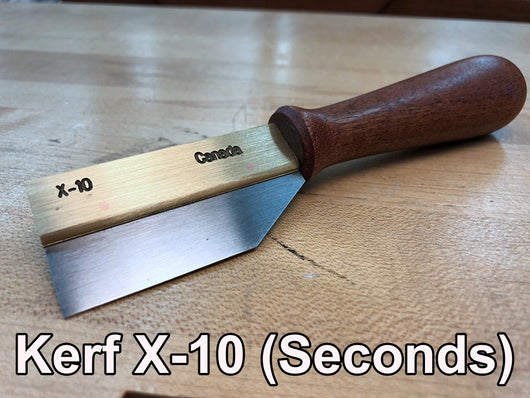 Gallery
Full Description
Customer Reviews
KITs
We make hundreds of Rob Cosman's Kerf X-10 and even though we are really good at it, sometimes things happen.  Every now and then we create a cosmetic blemish that does not affect the proper functioning of the Kerf X-10, but we cannot sell it as one of our high quality firsts.
This can be great news to you!  It's a way to purchase a Rob Cosman Kerf X-10 at a discount.  
We don't have many of these but when we do make a cosmetic mistake we put them up here for sale.   The pictures on this page are representative of the typical flaws that make a Kerf X-10 second.
If we are out of stock, just keep checking back, maybe there is a blemished Kerf X-10 in your future!!
Please see Rob Cosman's Kerf X-10 product page for all the details about this type tool.
NO RETURNS ON FACTORY SECONDS