Robertson Drive Screws: PanHead, #8, 5/8 inch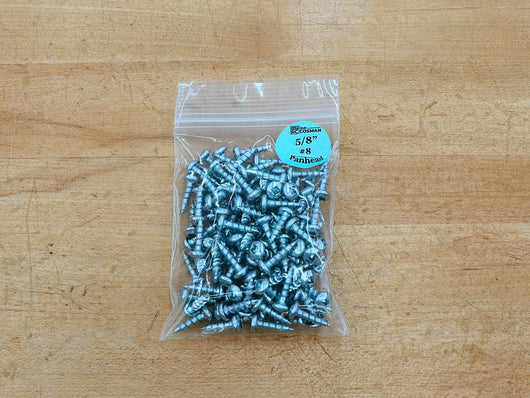 Gallery
Full Description
Customer Reviews
KITs
Finding a good wood screw is a challenge.  I only use Robertson® brand screws.  Highly engineered and specifically designed for cabinet making and general woodworking, I think they are the best screws on the market today. Robertson drive screws are a uniquely Canadian product, almost impossible to find outside of Canada.
Our Robertson® brand screws feature the Robertson drive head and its famous "cling-fit." A Robertson drive screw head has a slightly tapered, square-shaped socket in the head and a Robertson driver has a matching shaped protrusion on the tooltip.  This tapered shape makes inserting the driver into the socket easier and keeps the screw on the tooltip without the user needing to hold it there.  
Our Robertson® screws have deep, coarse threads with minimum body diameter which causes less material displacement and provides excellent holding, especially in softwoods and man-made material (MDF, plywood, etc.).  Sharp thread angles and serrated starter teeth requires less drive torque than standard screws.  
Thread: Coarse, serrated thread point
Quantity: 100 screws per bag