Rob Cosman's Dovetail Marking Knife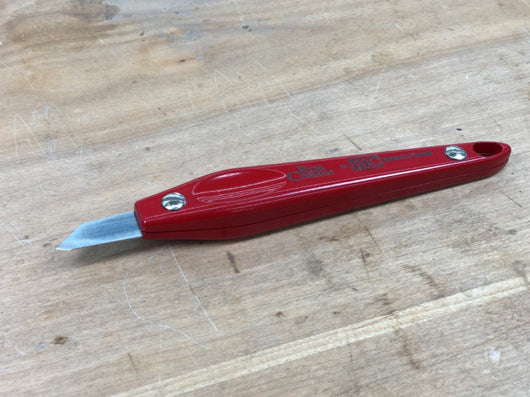 Gallery
Full Description
Customer Reviews
For over thirty years one of my most trusted dovetail tools has been my marking knife. Working with renowned blade manufacturer IBC, we have created the best knife for transferring tails to your pin board.  I think you will find this knife to be your missing link for laying out and cutting dovetail pins.
The knife body is made of metal and is surprisingly hefty

Two piece body with space to store a spare blade.

The rectangular handle will register in your hand to help you "feel" the blade's position.

Comes with straight blade ONLY.

Click HERE to go to the marking knife with a sawtooth blade page.

Replacement blades available HERE.
Marking Knife Blade:
Specifically designed for transferring tails to the pin-board using the traditional marking method.

Wide at the tip for better registration against the tail.

Radius tip "track's" in the end grain, helping to prevent the knife from straying off course as you mark your lines.

Micro-bevel on both sides prevents cutting into the tail and creates a mark that is easy to see.