Rob Cosman's Limited Edition Marking Gauge - Cocobolo #5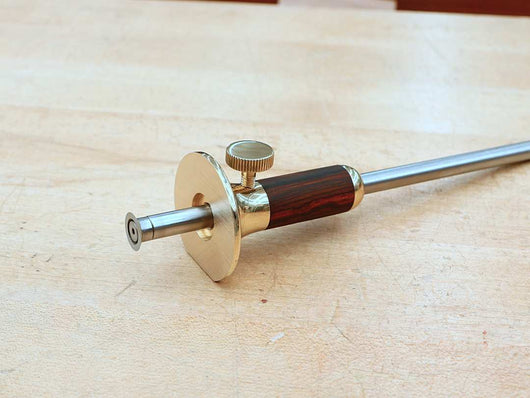 Gallery
Full Description
Customer Reviews
For the discriminating woodworker who appreciates the beauty and craftsmanship of a marking gauge crafted from unique species of select woods, I offer my Limited Edition Marking Gauge series.  These marking gauges have the  same design characteristics and specifications as my standard marking gauge but the beauty of a unique wood handle
You are buying the actual marking gauge pictured on this page so you can see exactly what it looks like.   Once this gauge is sold - it is gone. 

The handle of this marking gauge is crafted from Cocobolo (Dalbergia retusa).  Cocobolo is an exotic wood native to Central America. It has a kaleidoscope of different colors, ranging from yellow, orange, red, and shades of brown with streaks of black or purple. Sapwood is typically a very pale yellow. Colors are lighter when freshly sanded/cut, and darken with age.
Product Details
Here is why my marking gauge will help you cut better dovetails:
The blade comes sharp, designed to sever the wood fibers not crush them, leaving a crisp gauge line.

The blade is fixed in use but can be rotated to a sharper area when it gets dull.  You can do this several times before having to re-sharpen.

Has a large flat on the brass head preventing the gauge from rolling on your bench.

The outside of the blade is flat, making for precise work.

Has a large knurled locking knob that is easy to tighten.

Comes standard with the 1/2" diameter cutter head.  

Extra cutter heads available in 3/8", 7/16", and 5/8" diameters.  Click HERE to go to the marking gauge cutter head product page.

If you are looking for a less expensive option, see my standard marking gauge by clicking HERE.