Workshop: Training the Hand 4: 10-15 July 2023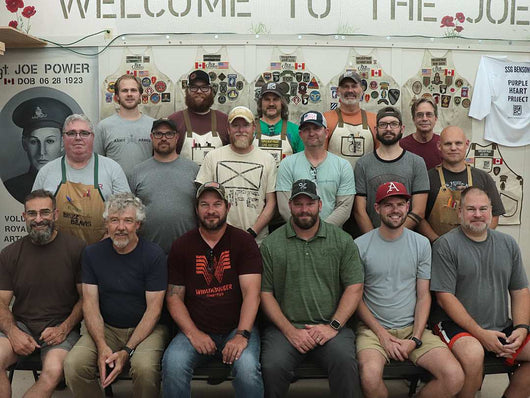 Gallery
Full Description
Customer Reviews
Workshop Overview.  In 2023, Rob Cosman's Training the Hand Workshop will be held once each month from April through October, with the exception of August.  Each workshop is 6 days long and is held at Rob's Workshop located in Grand Bay, New Brunswick, Canada. If after reading through the information below you have any questions about our Training the Hand Workshops please email your questions to Luther at robswebmaster@robcosman.com.
Cost:  The 6-day Training the Hand Workshop costs $2500 (USD) (this covers tuition, all materials except hand tools, 6 x breakfast meals, 6 x lunch meals, and 6 x supper meals).  To reserve your workbench in the workshop just select "deposit" or "full payment" from the drop-down menu and add it to your cart.  If you choose the deposit option, the initial deposit is $1250 (USD).  The remaining $1250 (USD) and is due no later than 45 days before your workshop starts.  WIthin 72 hours of purchasing your slot you will receive a welcome email with additional information.  If you do not receive this email in 72 hours, please email robswebmaster@robcosman.com
Workshop Details. There are 14 student positions available per workshop.  Seven of these slots are reserved for combat Wounded Warriors participating in Rob's Purple Heart Project.  The remaining seven slots in each workshop are reserved for paying students.  

Think of Rob's Training the Hand Workshop as a "Boot Camp" for traditional hand tool woodworking with 12 to 15  hours of intensive training daily.  Each day starts at 07:00 a.m.; breakfast is served in the workshop around 08:30 a.m.  We are back at the bench until around 1:00 p.m. when we break for lunch, again in the workshop.  After lunch we continue training until around 6:00 p.m. when we break for supper, again in the shop.  Then it's back at the bench until 9:00 p.m. when instruction stops; however, we keep the workshop open until 10:00 p.m. for students who want to work on their projects.  Everyone is kicked out of the shop at 10:00 p.m. Of note, on Saturday, the last day of the class, instruction stops at 4:00 p.m., we clean the shop, and students depart by 5:00 p.m.
If you add all those training hours up, it's 72-90 hours of time at your workbench.  A typical week-long woodworking course at other woodworking schools provide you with 30-40 hours of training in a week-long course.  To get the same amount of instruction and workbench time that you get at Robs week-long course you would typically have to attend a more expensive two-week course and incur the additional lodging, transportation, and food costs and even then you would only get between 60-80 hours of training.  With Rob's workshop you get two(+) weeks worth of training in just one intensive week of woodworking, ultimately saving you time and money.
Rob's Training the Hand Workshop is designed to teach students using their own tools; however, we do have a limited number of complete tool kits that students can rent from us.  See "tools" below for more information.  
By the time the week is over you will be able to sharpen your tools, use a plane and chisel, six-square a piece of wood, saw correctly, hand cut dovetails, hand cut mortise and tenons, and leave with a small project you have built. 
If you want to jump-start your hand tool woodworking skills or take your current skills to the next level, then this is the workshop for you.  In one week you will obtain more woodworking craftsmanship skills and techniques than watching  numerous DVDs or taking numerous weekend courses.  We guarantee it will be money well spent and you will go home a better woodworker. 
Refund Policy:  $250 of your tuition is NON-REFUNDABLE.  Any remaining balance paid is refundable if you cancel up to 60 days before the workshop begins.  Cancellations made within 59 days of the workshop start date ARE NOT refundable. 
Cancellations.  To cancel a previously reserved workshop please contact us at Robswebmaster@robcosman.com or by using the "Contact Us" link at the bottom of any page of our website RobCosman.com.

Location. The Training the Hand Workshop is held in Rob's personal workshop which is located at 275 River Valley Drive, Grand Bay, New Brunswick, E5K 1A7, Canada.  The nearest large city is Saint John, New Brunswick Canada, approximately 15 minutes east of Rob's workshop.  The nearest large U.S. city is Bangor, Maine, located approximately three hours south of Rob's workshop.
Woodworking Space. The Training the Hand Workshop is held in Rob's personal workshop in a specially designed teaching area approximately 2000 square feet with 14 student workbenches.  Each workbench has a sharpening station, anti fatigue mats, overhead power cord, bench lamp, vise and bench dogs, shooting board, and bench hook.  The teaching room is abundantly lit with bright, white, LED lights. 
Initial Meet-and-Greet.  We have an initial meet-and-greet with the first supper meal at Rob's Workshop for all students who can make it on the Sunday night at 7:00-9:00 p.m. (Atlantic Time).   This is so you can see the facility; claim your workbench; drop-off any  tools you brought; meet Rob, the assistant instructors, and the other students.  If you cannot make the Sunday meet-and-greet please let us know and we will see you on Monday morning.  As the workshop date gets closer we will email you with more details on this "meet-and-greet". 
Woodworking Skills Covered:  Rob has a general teaching outline but he changes the order of what he teaches based on how the class is progressing rather than any strict schedule.  The hand tool skills that you will learn and master are: 
Sharpening: Free-hand sharpening of planes & chisels; how to prepare the back of planes and chisels, the David Charlesworth "ruler-trick", how the grind a new bevel on a plane blade and chisel.

Planing: What the different bench planes are used for; how to prepare and properly set-up a bench plane; how to adjust and properly use a bench plane; how to plane wood flat, square, and straight; how to use winding sticks; how to use a scrub plane; how to troubleshoot plane issues.  

Sawing: What the different saws are used for; how to properly hold and use a saw; how to saw smooth and straight; how to sharpen a saw.

Dovetails:  How to hand-cut through dovetails and half blind dovetails. 
Mortise and Tenons:  How to hand-cut a blind mortise and tenon; how to hand-cut a through mortise and tenon, how to hand-cut a wedged mortise and tenon.

Other Skills:

 

Depending on what the students want, other skills are taught.  These include but are not limited to: preparing and using scrapers, wood selection, dealing with wood movement, using a router plane, houndstooth dovetails, hand-cut dados, hand cut rabbits, wooden hinged box making, and much more.
Final Project: 

 

The final project is used as a vehicle to practice and refine your hand tool skills.  The project is a bench hook made from rough lumber and all dovetail joinery.
Daily Schedule.  Click on the red button below to see the typical daily schedule.
Travel and Transportation.  Plan to arrive at Rob's shop on Sunday evening at 7:00 p.m. (Atlantic time) for the initial meet and greet and supper meal.  The workshop concludes on the following Saturday at 5:00pm.  Schedule your departure appropriately. Click the red button below for more detailed information on nearby airports and local transportation.   
 Lodging.  There are no hotels in Grand Bay.  The closest hotels to Rob's workshop are 6 to 10 miles away, located on the west side of the city of Saint John, New Brunswick (note: DO NOT use "St. John's" - that is a different Canadian city).  We recommend the Travelodge hotel which gives TTH students a special rate if you book directly with their reservation desk (Click the button below for more information on this deal).  To finad other lodging, just search Hotels.com or any other hotel site for hotels in Grand Bay - Westfield, New Brunswick, Canada area and these hotels will come up.  Click the red button below to learn about our recommended hotel and other nearby hotels.
 Meals.  Tuition include six days of home cooked exceptional meals.  For more details on our meals or to determine if we can meet you special dietary needs, click on the red button below.  
 Tools. Each paying student is expected to bring their own tools to the workshop, unless they are renting a tool kit from us.  Click on the red button below to see the list of required and optional tools, learn about renting tools, and other tool information..  
 Medical Coverage.  Students are responsible for arranging and paying for any medical services required while attending the workshop.  While the risk of injury or illness at our hand tool workshop is very low, injuries and illness have and do occur.  While we can handle minor cuts and scrapes, we highly recommend non-Canadians purchase short-term visitor / tourist insurance for their visit to Canada.  There are numerous companies that offer this coverage.  We do not provide any recommendations.  We recommend doing an internet search for, "Tourist medical coverage in Canada."  That will return numerous results.
Frequently Asked Questions.  Over the years a our students tend to ask  similar questions about the workshop.  Click the red button below to read our answers to the most common questions we get.
 Basic Requirements to Enter Canada. Entry into Canada is solely determined by Canada Border Services Agency (CBSA) officials in accordance with Canadian law.   We have had students that have had difficulties and have even been denied entry into Canada.  We recommend you click on the red button below and carefully read the the requirements for entry into Canada.