Rob Cosman's Card Scraper Tool Set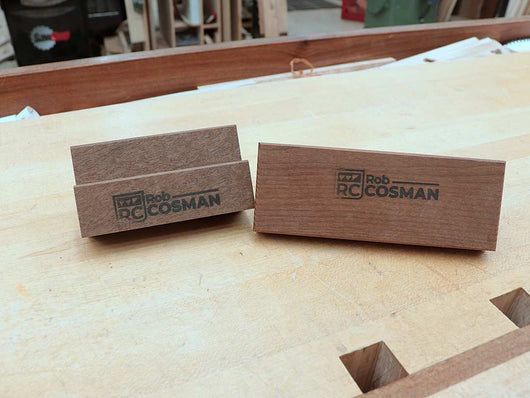 Gallery
Full Description
Customer Reviews
KITs
Card scrapers are the tool of choice when working with tear-out prone wood that will not respond well to a plane or when scraping a wood finish between coats.  However, to work properly, scraper blades need to be prepared by the user and have a burr tuned on them.  Doing this correctly can be a challenge, but not if you have our Card Scraper Tool Set.
Our Card Scraper Tool Set comes with our two jigs that make preparing your scraper blades easy.  The Right Angle Tool allows you to hold the scraper blade at 90 degrees to your stone allowing you to flatten and polish the edge of your scraper blade with ease.  The Side Bevel Tool holds the scraper with rare earth magnets allowing you to apply even pressure along the scraper blade side to flatten and polish the leading edge opposite a sharpening rule (not included).
Each of our Card Scraper Tools are made from torrefied wood, which is wood that has undergone intense heat in the absence of oxygen thus turning the wood hydrophobic (will not absorb moisture).  
Right Angle Tool:  4-1/4 inches (108mm) long x 2-1/4 inches (57mm) wide x 3/8 inches (10mm) thick
Side Bevel Tool: 6 inches (152mm) long x 1-1/4 inches (32mm) wide x 7/8 inches (22mm) thick